Our Atemi Ryu Jujitsu Class in Mechanicsville Helps You Learn Self-Defense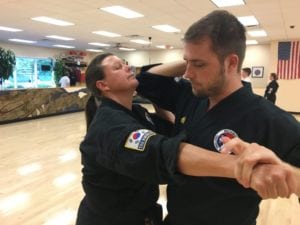 Atemi Ryu Jujitsu is different from similar disciplines in a few ways, beginning with the shorter amount of time necessary to become confident in this self-defense system. Masters of this discipline tend to focus on the basic, practical aspects of the art. This leads to the second distinction between Atemi and other methods taught in a more traditional jujitsu class: flexibility. The techniques taught at Richmond Traditional Martial Arts at our Mechanicsville center continue to adapt as this modern system develops further. The third difference between Atemi Jujitsu and other systems lies with the instructors. The leaders of these classes apply basic techniques in new ways that are tailored to specific situations. If you're interested in learning an unarmed combat method that is innovative and still evolving, then this discipline may be the perfect fit.
Courses Are Available to Richmond and Hanover Students
We are guided by the same philosophies in our jujitsu studio that we follow in our other disciplines. This means that we will continue to instill qualities originating from the Bushido code of ethics during each of our lessons. Students from Hanover and Richmond are expected to become proficient in the movement elements of this discipline while also developing such values as respect, honesty, loyalty and benevolence. We place a strong emphasis on abiding by ethical principles whether students are participating in training sessions or in a real-life environment.
Schedule Your First Lesson Today
If you're looking for a method of defense that offers relatively quick results without sacrificing traditional martial arts values, choose Richmond Traditional Martial Arts, serving Mechanicsville, Richmond and Hanover. Are you curious about Krav Maga lessons? We have the answers you are seeking. Contact us by phone at 804-730-0905.