Tae Kwon Do Lessons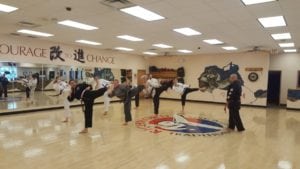 Tae Kwon Do is one of the foundational styles of RMTA and the national marshal arts of Korea. Tae Kwon Do focuses on flexibility and kicking/striking power which translates well into the other martial arts classes we train in. Our beginners children's classes focus exclusively in Tae Kwon Do so that each student has the fundamental striking and kicking skills needed to move into our advanced or adult classes where we study Atemi Ryu Jujitsu, Krav Maga, and Karate. Tae Kwon Do is also a great way to increase cardio stamina and overall strength.
Join a Class in the Mechanicsville Area
At Richmond Traditional Martial Arts, we focus on providing students with all the skill sets needed for self-defense while helping to develop self confidence, flexibility, strength, and cardio endurance. Sign up for two free classes today and get started on the new and improved version of yourself! Our number is 804-730-0905.